Busduct
Bustuct
The Italian company DKC Europe Srl, appoints Energy Satrap company to sell in exclusive right DKC Europe products for Busbar business unit (POWERTECH and LIGHTECH range) on Oil& Gas and Petrochemical territories.
Energy Satrap List Of Services
Engineering and design
Procurement services
Order management
Manufacturing inspection
Transportation
Handling
Installation
Inspection
Pre-commissioning
Commissioning
Training
The POWERTECH ™ busbar trunkings system, suitable for power transportation and distribution, can be used to connect transformers to switchboards, switchboards to main panels and to distribute power inside industrial, commercial and service buildings.
The POWERTECH ™ busbar trunkings system conforms to IEC 61439 - 1 & 6 standards and is offered with nominal current from the nominal current is from 630A to 5000A with aluminum conductors,while the nominal current is from 1000A to 6400A with copper conductors.
In standard versions aluminium conductors are galvanically tin-plated along their entire length to avoid oxidation problems, while copper conductors are not treated because a ETP 99.9 pure copper is used. On request, the copper conductors can be galvanically tin-plated as well.
For both versions (copper and aluminum) is possible to have galvanically silver-plated conductors.
List of test by LOVAG:
10.2.2 Resistance to corrosion
10.2.3.2 Resistance to abnormal heat and fire due to internal electric effects
10.2.5 Lifting
10.2.6 Mechanical impact
10.2.7 Marking
10.2.101 Ability to withstand mechanical LOADS
10.3 Degree of protection of assembly
10.4 Clearances and creepage distances
10.5 protection against electric shock and integrity of protective circuits
10.9 Dielectric properties
 10.10.2.3.5 Verification of temperature-rise limits of BT run
10.11 Short circuit withstand strength
10.101 Resistance to flame propagation
The standard product is offered in the 3P + N + PE (4 conductors) version with the neutral and the phase of the same cross-section  and the casing as earth conductor with a cross-section that is more than 100% of the phase one.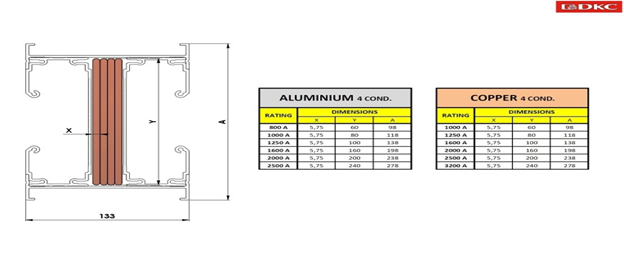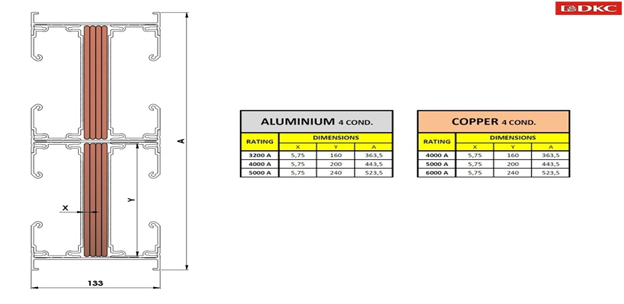 A five conductors version is produced as well to satisfy the market requirements: the three phases and the neutral have the same cross-section. While the fifth conductor can be realized with a 50% of the phases cross section and be used as CE (Clean Earth) or with 100% of the phases cross section and be used to realize the 200% cross-section neutral version or as dedicate earthing bar.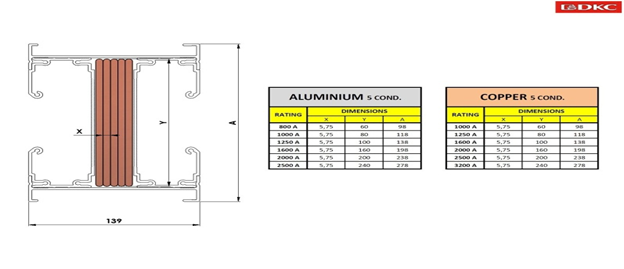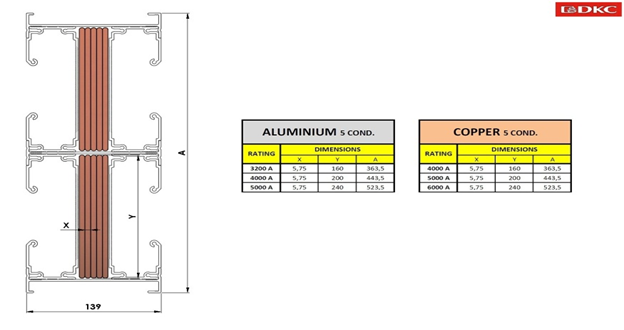 According to the nominal current the phases and the neutral are realized with one or two bars: in the two bars version, they are connected to each joint cover unit between two trunking units.
The casing is made by aluminium alloy extruded profile giving the product high mechanical resistance and a great save on weight compared to the casing made by galvanized sheet steel.
The electrical and mechanical connection is achieved by a monoblock system with one or more bolts (depending on the busbar trunkings rated current) and self-breakable nuts that can be easily and quickly installed without the help of any special tool (torque wrench).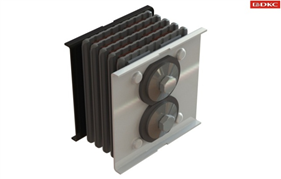 The electrical and mechanical connection of POWERTECH ™ busbars is achieved by a simple monoblock system with shaped and coloured lateral plates, bolts and self-breakable nuts which guarantee the correct installation.
POWERTECH ™ busbar trunkings system standard version is offered with RAL7035 painting (other paintings are possible if requested), the protection degree is IP55. For outdoor installation an extra protection is recommended.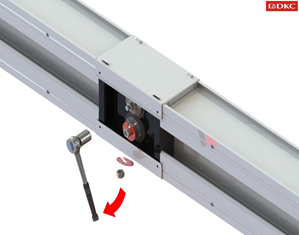 POWERTECH ™ busbar trunking system is made with sandwich technology (compact); the conductor bars are compacted without any room inside the casing and are fully insulated with DyTerm insulator obtained  by a combination of a polyester sheet together with Nomex® (Dupont®) which complies to 2011/65/UE (RoHS) European Directive (entered into force on 3rd January 2013) and with a "F" thermic class 155°C  (for  special achievements insulators with a "H" thermic class up to 180°C  can be used).
All these characteristics guarantee to POWERTECH ™ busbar trunkings system high electrical performances thanks to the reduction of magnetic fields and voltage drop values even in high current and long distances extreme conditions, excellent technical performances with a high mechanical resistance, high resistance to weathering in particularly aggressive environments and quick installation.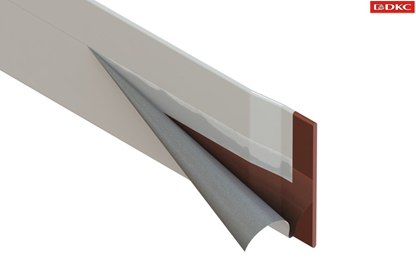 The correct torque is needed to ensure the electrical continuity between the units of the run and it is guaranteed  by a special self-breakable bolt that is double headed: the first one is used for the installation carried out without any special tool, it breaks and can be removed when the correct pressure level (about 75Nm) is reached, while the second one will be available for future maintenances and/or inspections. The monoblock is maintenance-free.
The monoblock system has got shaped lateral plates to create mechanical locks to avoid to any element to be assembled in the wrong direction with dangerous phase inversion. Moreover, the lateral plates have the same colour as the terminal parts of the element case (each side has a different colour) to guarantee a visual check of possible mistakes during the installation too.
Further verification is achieved by the joint cover units that guarantee the high protection degree and can be assembled only if two elements are in the right position.
POWERTECH ™ busbar trunking system offers a wide range of elements (standard and special  with straight units, elbows , double elbows, connection/terminal units for transformer and distribution boards, etc…..) that are required to accomplish all possible installation layouts.

There are also tap-off units to take the current from the system as follow:
-  fixed tap-off units that can be assembled on the junction between two elements and can be connected and disconnected with the system not energized. Rated current from 125A to 1250A.
- tap-off units with clamp pins that can be assembled on the distribution elements with tap-off facilities and can be connected and disconnected with the system energy. Rated current from 63A to 630A.
The above mentioned tap-off units are available in the following variations: empty (be equipped as desired by the customer) with disconnect device, with fuse holder, with switch-disconnect and fuse holder, pre fitted for all major brands of MCCB and fitted with all major brands of MCCB (only on request).